Carr Cottage is located at Camp Seafarer and offers impressive views of the Neuse River from its screened-in porches. The cottage has a full kitchen and laundry and comes fully furnished with separate rooms for living and sleeping, including linens for your stay. 
Walking in, you are greeted by a comfortable living area tastefully appointed with pine-paneled walls, comfortable couches and armchairs and a TV. There is a small eating area set for four by the window. The full kitchen has a bar area and seats up to four people. The kitchen is fully equipped with a stove, full-size refrigerator, dishwasher, coffeemaker and toaster oven. The kitchen is stocked with plates, mugs, glasses, flatware, pots and pans.  
Off the main room is the bedroom containing a queen bed and a set of bunk beds. A full bathroom with sinks and vanities plus a large shower is right off the bedroom.  
The large screened-in porch has another table for al-fresco dining and plenty of chairs and tables for relaxing and watching the river. Carr Cottage is fully climate-controlled with heating and air-conditioning, Wi-Fi and ceiling fans. 
Camp Seafarer is located near Arapahoe, NC on more than 150 acres. We have over a mile of shoreline on the Neuse River, a long pier and a small beach. You are welcome to bring small boats, such as Sunfish, canoes, kayaks or stand-up paddleboards to use on the Neuse or our canoe lake. 
On the Land, we have tennis courts, tetherball, basketball courts, 9-holes of golf (through Oct. 31) and open fields and spaces for play. You are welcome to bring any and all sports gear to play, including bikes.
Rentals are unavailable from May 12 – Aug. 22 due to overnight summer camp. Cottage rentals will be unavailable from Nov. 21 - 28 and Dec. 20 - Jan. 2.
Packing List
Our packing list is pretty simple and guests are welcome to bring personal fishing equipment, sports gear and car-top boats. Camp does not provide linens, kitchens, sports gear, boats, canoes, kayaks, SUPs, personal floatation devices, meals, or planned activities. Please keep all pets at home.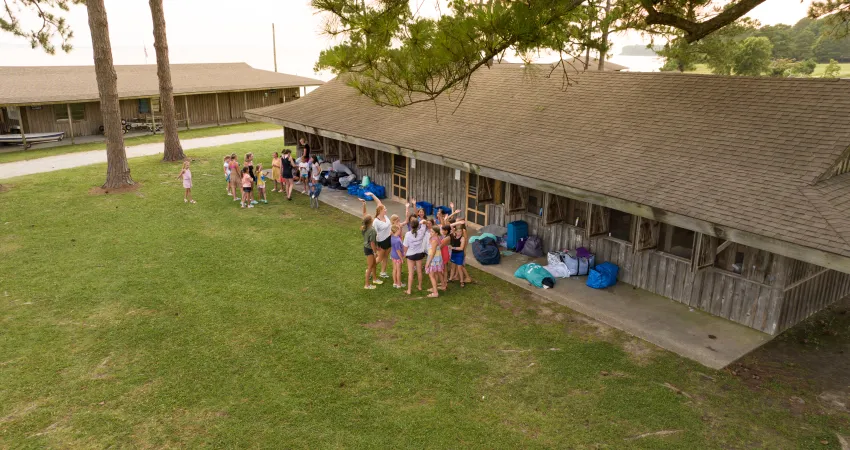 Rates and Dates
You may reserve a cottage for between one and 14 nights. Rates are per night with a two-night minimum. 
$171, per night, YMCA Members
$190, per night, Program Participants
There is a minimum age of 25 to rent. Cancellations 48 hours before the first night are fully refundable. Cancellations less than 48 hours before the first night will not receive a refund. If Camp closes due to weather, all rental fees are refunded. 
Coastal Cabin Rental Form
Please use the form below to request a coastal cabin rental. Requested dates are not guaranteed until the reservation is made. Coastal Cabin Rentals are not offered during the summer or the Thanksgiving, Christmas and New Year holidays.